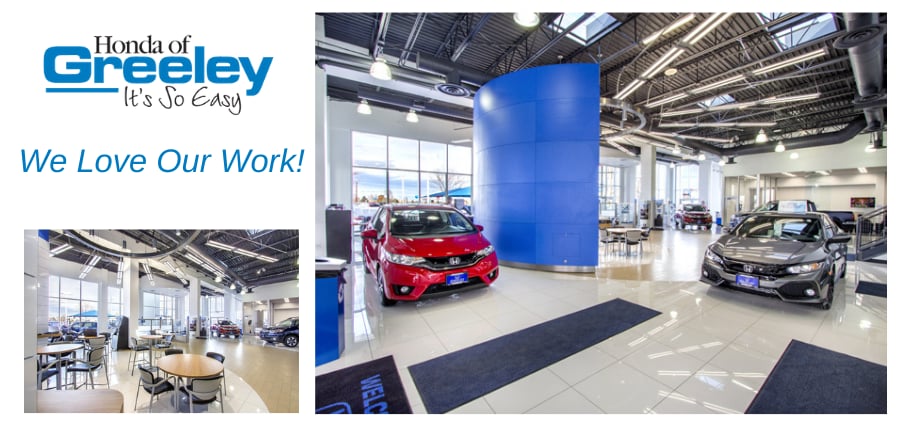 About Honda of Greeley
Since 1997 Wesley Taber Sr has owned and managed the Honda of Greeley dealership and has since opened our sister store next door, Hyundai of Greeley. The Honda of Greeley management team, led by Wes's vision, believes that operating a quality dealership starts with happy employees. Our tagline "It's So Easy" represents the support we provide our employees which makes it easy for them to thrive at Honda of Greeley and in turn easy for customers to get the care and attention they deserve working with people who enjoy their jobs.
Work Life Balance
We know work is only part of your life and we treat you that way. We allow flexibility during the workday because we know family comes first!
Opportunity for Advancement
We love to develop our employees and promote from within.  Show us what you've got and the opportunities will be there.
The Honda Product  
We provide our employees every tool needed to succeed. What's more is we represent a world-class brand. Honda continues to win awards year after year for quality, safety and value, which goes a long way keeping employees and customers happy!  
Job Openings
Listed below are the current openings. We hope to hear from you!
Job Openings
BILINGUAL AUTOMOTIVE SALES CONSULTANT - TWO OPENINGS
Honda of Greeley is looking to fill positions immediately!
We sell new, used, internet and to all walk-In traffic.
This is a full-time position- work 5 days per week.
Qualifications/Requirements:
Excellent communication skills
Work in a team environment
Strong work ethic & positive outlook
Prior Sales Experience is a plus!
Valid Driver License & Clean MVR (must be insurable)
What we provide for you:
Tiered health care plans, dental, vision, supplemental insurance (after 60 days)
401k
Vacation time after 1 year of employment
In house/On-hand training
Serious inquiries only!
CALL AND ASK FOR THE SALES MANAGER IF INTERESTED (970) 506-2791
Apply for Position
SALES ASSOCIATE
No experience necessary. 
Each new Sales Associate receives in house/hands on training by our Management team. If you enjoy working with people, have great attention to detail and a strong inner drive for success - then you will make a fantastic addition to our Company!
We are looking for outgoing, hard-working, and dedicated employees. Do you have a positive outlook, excellent communication skills, and a strong work ethic? Come join our team!
This is a full-time position Monday through Saturday with a day off during the week. Schedules may vary so some flexibility is necessary for this position. Earn $2000-$6000 per month based on performance. 
We offer a full line of benefits including:
Tiered Health Care Plans
Dental
Vision
supplemental Insurance
401K
Vacation time starts at year 1 with the company
PLEASE APPLY ONLINE FOR CONSIDERATION.
Apply for Position
Hours
Monday

9:00AM-7:00PM

Tuesday

9:00AM-7:00PM

Wednesday

9:00AM-7:00PM

Thursday

9:00AM-7:00PM

Friday

9:00AM-7:00PM

Saturday

9:00AM-7:00PM

Sunday

Closed